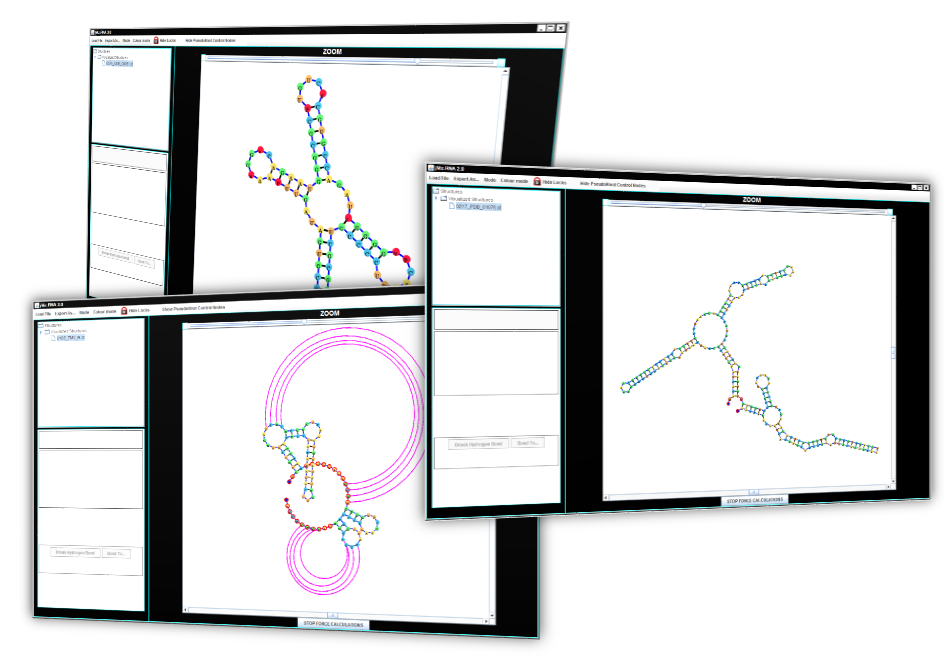 jViz.RNA 3.0
jViz.Rna 3.0 is the newest extension of jViz.RNA. A multi-platform visualization tool inspired by feedback from life sciences experts, jViz.RNA 3.0 provides faster and better RNA visualizations for all RNA classes. RNA structures can be explored, manipulated, and edited to fit the needs of any user. Any of the produced visualizations can be saved as an image format to enable easy usage in publications and presentations.


Features
Multi-platform capability

jViz.RNA 3.0 is built using Java 1.6, enabling usage on Linux, Mac OS X, and Windows.

Faster Dynamic Visualization

Using state-of-the-art integration systems, jViz.RNA provides a dynamic structure which quickly responds to user manipulation. This software will provide an automatic layout which users can then edit to fit their needs.

Online Editing

Structures can be edited by removing or adding base-pairs into the structure, allowing users to create related RNA structures with ease.

Structure Management

Load as many structures as you'd like and jViz.RNA will allow you to switch between them quickly as you explore their similarities and differences.

A Choice of Visualizations

Depending on the size and complexity of the structure, you can choose to use the Linear Feynman, Circular Feynman, Dot Plot, or the Classical Secondary Structure visualization mode to display the structure. All visualization modes can display all possible pseudoknot types.